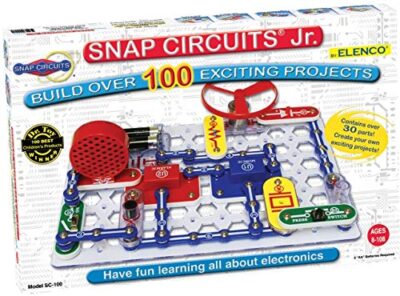 WHAT IS IT?
Snap Circuits Jr. kit SC-100 comes with a plastic snap grid and 32 components to create 101 different electronic projects. The pieces, which include snap wires, slide switches, an alarm circuit, a music integrated circuit, and a speaker, snap together easily on the included plastic grid–no soldering required. The project manual includes large color illustrations and simple directions for each project. The projects include a sound-activated switch, a musical doorbell, a voice-controlled lamp, a flying saucer, and a light police siren. With these projects, children will experiment with things like electric switches, integrated circuits, digital circuits, fuses, and the transformation of circuit sounds into other sounds. Recommended for children 8 years and older.
WHAT IS INCLUDED?
A box with 33 parts + 2 AA batteries
An instruction manual for experiments 1-101
A plastic tote
HOW DOES IT WORK?
WHAT DO YOU NEED TO USE IT?
2 AA batteries are included
WHAT ELSE DO YOU NEED TO KNOW?
This item may be borrowed for three weeks. If there are no holds on this item, it may be renewed.
Borrower must be a FCL patron aged 18 or older with an account in good standing (no unresolved bills).
This item must be returned to the FCL circulation desk  (not in a book drop).
If you have additional questions about borrowing this item, please review our Library of Things Lending Policy.