OUR MISSION:

Our library is a safe, welcoming, community space connecting people to information, ideas, and each other to promote curiosity, discovery, informed citizenship and life-long learning through free and open access to information.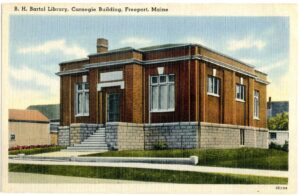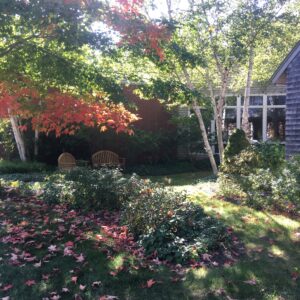 A BRIEF HISTORY
The first library association to be formed by the residents of Freeport was in the early 1800s. A membership fee was paid with the loan period being up to four weeks. A late fee was one cent a day, and if a member shared their book with a nonmember, a fine of $2.00 for this serious offense was assessed. 
When the original association disbanded in 1900, a new one was formed and a $1 fee got residents membership and access to 600 books.
Fundraising began to build a permanent library during this same time. The Andrew Carnegie Foundation was awarding grants, and Freeport was awarded $6,500 toward the construction so long as the town provided a lot. When the estate of Barnabas Henry Bartol, a local successful mechanical engineer, offered $1,000 to the building committee if the library was named after him, they agreed. The B.H. Bartol library opened on May 26, 1906 at what is now 55 Main Street. 
By 1994, it was clear Freeport had outgrown the space, and in 1995 a library building committee was formed. Jay Lucker from MIT was hired, and he worked with them and the then current library director, Kay Haines, to assess the town's needs and wants. Architect Winton Scott from the Portland Design Team was chosen to design the new building.
The town was able to find a site behind the Baptist Church off Main Street, which also happened to abut the Freeport Middle School. Land and bond approval to construct the new library was passed, and in October 1995 construction began. The newly renamed "Freeport Community Library" was open for business by the summer of 1997.
With its easy access and parking, the Freeport Community Library has become a very busy and robust community gathering center enjoyed by all!