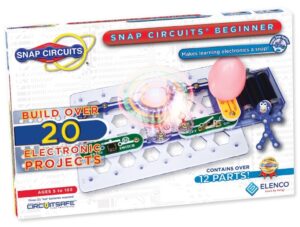 WHAT IS IT?
Snap Circuits Beginner kit SCB-20 includes 14 parts, and more than 20 projects learning the basics of how switches and circuits work. The included color manual was created just for younger "engineers" with few words and lots of step-by-step diagrams. Parts have extra safety features integrated beyond the circuits technology, included in every snap circuit set.Perfect for young engineers ages 5-9.
WHAT IS INCLUDED?
A box with 14 parts + 3 AA batteries
An instruction manual for projects 1-21
A plastic tote
HOW DOES IT WORK?
WHAT DO YOU NEED TO USE IT?
3 AA batteries are included
WHAT ELSE DO YOU NEED TO KNOW?
This item may be borrowed for three weeks. If there are no holds on this item, it may be renewed.
Borrower must be a FCL patron aged 18 or older with an account in good standing (no unresolved bills).
This item must be returned to the FCL circulation desk  (not in a book drop).
If you have additional questions about borrowing this item, please review our Library of Things Lending Policy.