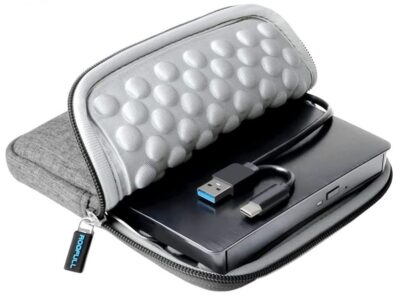 WHAT IS IT?
Many new laptops and desktop computers aren't equipped with an internal CD/DVD drive. Patrons who borrow this item can connect their computers to this external CD/DVD drive that can read, burn, and rip CDs and DVDs. It has a USB 3.0 dual USB-A and USB-C cable that is stored underneath the drive and includes an additional USB-A to micro USB cable that can be used if your computer cannot supply enough power for this device (borrower must supply their own power adapter cube). This external drive is compatible with Windows 11/10/8.1/8/7/Vista/XP, all versions of Mac OS, and Linux.
WHAT IS INCLUDED?
A Roofull external CD/DVD drive with attached dual USB-A and USB-C cable
A USB-A to micro USB cable
A padded case
Instructions
A zippered protective bag
HOW DOES IT WORK?
Plug the external CD/DVD drive into your computer's USB-A or USB-C port. It will install the driver and be recognized by your computer automatically.
If your computer doesn't already have a media player, you may need to download software to burn, rip, or view CDs/DVDs. If you do need to download software, the Windows & Mac manuals listed above include the manufacturer's recommended free and paid software options.
Max Speed: CD-ROM: 24X / CD-R: 24X / CD-RW: 8X / DVD-ROM: 8X / DVD-R: 8X / DVD+R: 8X / DVD-RW: 8X / DVD+RW: 8X / DVD+R DL: 4X / DVD-R DL: 4X / DVD RAM 3X
WHAT DO YOU NEED TO USE IT?
A computer with a USB-A or USB-C port
If your computer can't supply enough power for the external drive, you'll need your own power adapter/cube to use with the included USB-A to micro USB cable.
WHAT ELSE DO YOU NEED TO KNOW?
This item may be borrowed for three weeks. If there are no holds on this item, it may be renewed.
Borrower must be a FCL patron aged 18 or older with an account in good standing (no unresolved bills).
This item must be returned to the FCL circulation desk  (not in a book drop).
If you have additional questions about borrowing this item, please review our Library of Things Lending Policy.