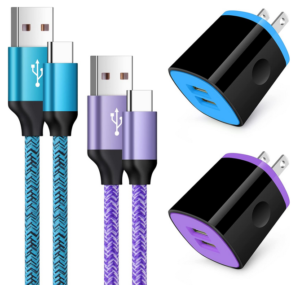 WHAT IS IT?
Our USB-C chargers are compatible with many Android devices, including some Samsung Galaxy, Motorola Moto G, LG G-series, and Google Pixel smartphones.
WHAT IS INCLUDED?
Android USB-C charging kits include:
A 3 foot USB-C to USB-A charging cable
A USB-A 5V 2.1A power adapter
A zippered bag
WHAT ELSE DO YOU NEED TO KNOW?
This item may be borrowed for three weeks. If there are no holds on this item, it may be renewed.
Borrower must be a FCL patron aged 18 or older with an account in good standing (no unresolved bills).
This item must be returned to the FCL circulation desk  (not in a book drop).
If you have additional questions about borrowing this item, please review our Library of Things Lending Policy.