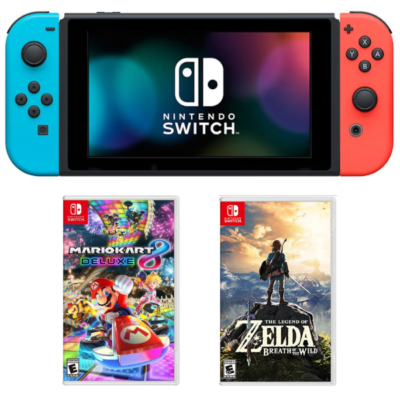 WHAT IS IT?
The Nintendo Switch is a portable gaming system with a long lasting battery and three modes of play: TV, tabletop, and handheld. In addition to providing single and multiplayer thrills at home, the Nintendo Switch system can be taken on the go so players can enjoy a full home console experience anytime, anywhere. The mobility of a handheld is now added to the power of a home gaming system, with unprecedented new play styles brought to life by the two new Joy-Con controllers. The Switch console has a battery life of approximately 4.5-9 hours (depending on the games played) and connects via Wi-Fi for multiplayer gaming.
The Mario Kart 8 Deluxe game included in the Nintendo Switch kit is rated "E for Everyone" and can be played in single or multiplayer modes. Burn rubber across Mushroom Kingdom raceways—underwater, in the sky, upside-down in zero-g, and past the finish—for the win!
The Legend of Zelda: Breath of the Wild game included in the Nintendo Switch kit is rated E 10+ (Everyone 10+) and can be played in single player mode. The many races of Hyrule lived together in harmony, the Sheikah's blue aura providing life to the land, and everyone benefited from the Sheikah's advanced technology. That all ended when a beast that came to be known as Calamity Ganon appeared.
WARNING: If you have epilepsy or have had seizures or other unusual reactions to flashing lights or patterns, consult a doctor before playing video games.
WHAT IS INCLUDED?
The Nintendo Switch kit includes:
1 Nintendo Switch console
1 Nintendo Switch dock
2 controllers – 1 Joy-Con (L) neon blue & 1 Joy-Con (R) neon red
1 Princess Zelda & Link protective case (for Switch console and attached Joy-Con controllers)
1 Joy-Con grip
2 Joy-Con wrist straps
1 high speed HDMI cable
1 Nintendo Switch AC adapter
1 copy of Mario Kart 8 Deluxe Switch video game
1 copy of The Legend of Zelda: Breath of the Wild Switch video game
A plastic tote
HOW DOES IT WORK?
Turn on the power button and select FCL's Nintendo account "FreeportCL".
WHAT DO YOU NEED TO USE IT?
You may need to charge the Nintendo Switch console battery. Although previous borrowers may leave the kit with some charge left, we cannot guarantee how long it will last.
Please note that this kit/items within this kit may be used to store and/or transfer your personal data. If you upload, transfer, or log in to collect your personal data on any such devices in this kit, please remember to delete your data and/or log out of your accounts before returning items to the library. Library staff will not always be able to check every item to assure personal data has been completely deleted. If you notice personal data stored on any device you borrow, please feel free to either delete the information or contact the staff at the library so we can delete the data upon return.
WHAT ELSE DO YOU NEED TO KNOW?
This item may be borrowed for three weeks. If there are no holds on this item, it may be renewed.
Borrower must be a FCL patron aged 18 or older with an account in good standing (no unresolved bills).
This item must be returned to the FCL circulation desk  (not in a book drop).
If you have additional questions about borrowing this item, please review our Library of Things Lending Policy.