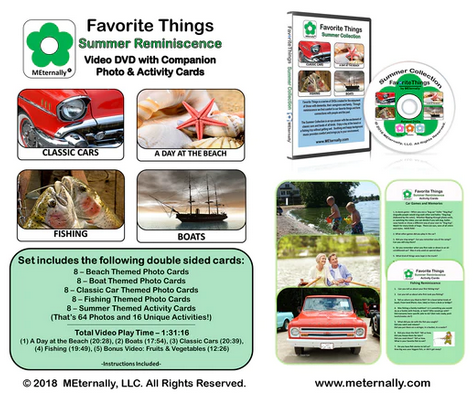 WHAT IS IT?
Reminiscence therapy is an activity which promotes the sharing of memories and the telling of stories. Memory kits include both videos and photo cards to help stimulate conversations and recollections about the past.
Favorite Things is a series of DVDs created for the enjoyment of those with dementia, their caregivers and family in order to provide comfort and inspire connections and conversation through reminiscence.
Summer Collection
The DVD focuses on the beauty and vivid colors of different summer outdoor activities with soothing and happy background music. The videos are slow changing slideshows of photos and video shorts with an easy to use menu.
Videos included on the DVD:
A day at the beach
Boats
Classic cars
Fishing
Bonus video: fruits and vegetables
A brief video for caregivers and family
The summer photo cards can be used independently or as a compliment to the DVD with the same four categories: a day at the beach, boats, classic cars, and fishing. The set includes 32 double sided photo cards and 8 companion activity cards for a total of 16 reminiscence activities.
The companion photo cards provide cues for caregivers so that they can preface a photo card or video with questions, or plan where to stop within a slide show or photo cards for an activity, share trivia/fun facts or participate in a game.
WHAT IS INCLUDED?
The Summer Collection memory kit includes:
A DVD
A set of 41 photo and activity cards in a hard plastic container
A zippered bag
HOW DOES IT WORK?
The DVD and photo cards both include some basic suggestions for how to get started.
If you are the caregiver/family member, you might want to preview the DVD and/or photo cards first to become familiar with the images and plan the best moments to pause for a discussion or activity.
WHAT DO YOU NEED TO USE IT?
A DVD player to play the videos
If you don't have a DVD player, you can still use the photo cards that cover the same topics.
WHAT ELSE DO YOU NEED TO KNOW?
This item may be borrowed for three weeks. If there are no holds on this item, it may be renewed.
Borrower must be a FCL patron aged 18 or older with an account in good standing (no unresolved bills).
This item must be returned to the FCL circulation desk  (not in a book drop).
If you have additional questions about borrowing this item, please review our Library of Things Lending Policy.