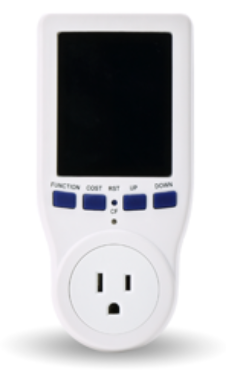 WHAT IS IT?
These electricity monitors can help detect the power usage level of appliances and electronics. They are part of a statewide education campaign being conducted by Efficiency Maine designed to help consumers monitor, measure and manage their electricity consumption. You can also use one as part of a DIY home energy assessment.
WHAT IS INCLUDED?
Each electricity monitor kit includes:
HOW DOES IT WORK?
Simply plug the monitor into an electrical outlet and plug an appliance into the monitor to get a read-out of electricity usage. Follow the instructions to calculate how much the appliance is costing you each month.
WHAT ELSE DO YOU NEED TO KNOW?
This item may be borrowed for three weeks. If there are no holds on this item, it may be renewed.
Borrower must be a FCL patron aged 18 or older with an account in good standing (no unresolved bills).
This item must be returned to the FCL circulation desk  (not in a book drop).
If you have additional questions about borrowing this item, please review our Library of Things Lending Policy.