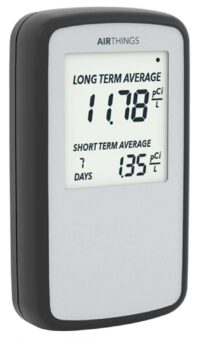 WHAT IS IT?
The Airthings Corentium Home digital radon gas detector allows you to take a reading of indoor radon levels and its LCD screen displays the average daily, weekly and long term concentrations. Powered by 3 AAA batteries, the radon monitor makes it easy to take measurements in order to get an overview of the concentrations of radon in a home or other indoor location. Within 24 hours you will see the first indication of your radon levels.
Per Maine's Department of Health & Human Services, "Radon is the second leading cause of lung cancer. High levels of radon gas occur naturally in Maine soil and water, and can move up into a house from the ground. The house then traps the radon in the air inside. Radon gas can also dissolve into well water, which is then released into the air when you use the water. Simple air and well water tests can show whether home radon levels meet state and national safety guidelines."
The State of Maine advises you to take action to reduce the radon level in your home's indoor air at 4 pCi/L, but consider reducing levels between 2 and 4 pCi/L. The World Health Organization (WHO) recommends lowering radon levels to 2.7 pCi/L or less.
Airthings radon level recommendations:
More than 4 pCi/L  = Poor: keep measuring. If levels are maintained for more than 1 month, contact a professional radon mitigator.
Between 2-4 pCi/L = Fair: Keep measuring, if levels are maintained for more than 3 months, contact a professional radon mitigator.
Less than 2 pCi/L = Good: No action needed.
If your radon levels are high, the Maine Center for Disease Control (CDC) Radon Mitigation (Reduction) page includes a link to search for registered radon air and water mitigation contractors. You can also contact the Maine CDC at 800-232-0842 if you have general questions about radon levels and radon mitigation systems.
WHAT IS INCLUDED?
The digital radon detector includes:
An Airthings Corentium Home digital radon detector with 3 AAA batteries
A case
Instructions
A zippered protective bag
HOW DOES IT WORK?
WHAT DO YOU NEED TO USE IT?
3 AAA batteries are already in the device
There's no on/off switch so the digital radon detector should be on when you open the case.
WHAT ELSE DO YOU NEED TO KNOW?
This item may be borrowed for three weeks. If there are no holds on this item, it may be renewed.
Borrower must be a FCL patron aged 18 or older with an account in good standing (no unresolved bills).
This item must be returned to the FCL circulation desk  (not in a book drop).
If you have additional questions about borrowing this item, please review our Library of Things Lending Policy.