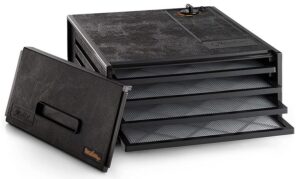 WHAT IS IT?
The Excalibur 2400 dehydrator has 4 plastic trays with mesh screens (4 square foot capacity), an integrated on/off switch and adjustable thermostat range of 95°F to 165°F, and a 4″ 220W fan for excellent air circulation. Dehydrate fruits, vegetables, nuts, meat for jerky, fruit puree for fruit roll-ups, raise bread or make homemade yogurt. Excalibur's patented hyperwave technology and horizontal parallex drying removes water from food with a continuous circulation of thermostatically-controlled warm air, efficiently and easily.
WHAT IS INCLUDED?
An Excalibur 2400 dehydrator
A plastic tote
HOW DOES IT WORK?
WHAT ELSE DO YOU NEED TO KNOW?
This item may be borrowed for three weeks. If there are no holds on this item, it may be renewed.
Borrower must be a FCL patron aged 18 or older with an account in good standing (no unresolved bills).
This item must be returned to the FCL circulation desk  (not in a book drop).
If you have additional questions about borrowing this item, please review our Library of Things Lending Policy.