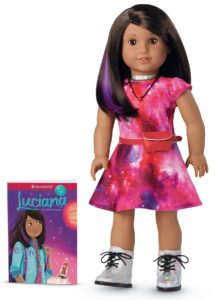 WHAT IS IT?
The American Girl doll Luciana has long soft hair, light brown eyes that can open and close, a cloth body, and a moveable head and limbs made of smooth vinyl. This doll represents American Girl character Luciana Vega, a contemporary Chilean-American girl who dreams of being the first kid on Mars.
This kit also includes a copy of the book, Luciana, by Erin Teagan. Luciana is going to space camp, but when picked as the leader for her team, she steers them into trouble. After that her team doesn't trust her, or like her that much either. It's great to be good at science, but she needs more to make it to Mars. Luci needs to become someone her team can depend on, no matter what.
WHAT IS INCLUDED?
A doll
Several pieces of clothing & accessories:

Pink galaxy dress
Pink underwear
Silver boots
Navy shoes
Astronaut office
Red belted purse
Brush

A book: Luciana by Erin Teagan
A plastic tote
WHAT ELSE DO YOU NEED TO KNOW?
This item may be borrowed for three weeks. If there are no holds on this item, it may be renewed.
Borrower must be a FCL patron aged 18 or older with an account in good standing (no unresolved bills).
This item must be returned to the FCL circulation desk  (not in a book drop).
If you have additional questions about borrowing this item, please review our Library of Things Lending Policy.