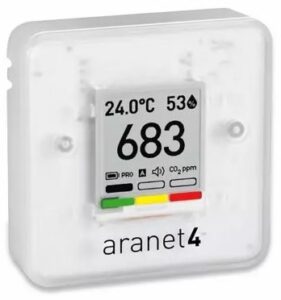 WHAT IS IT?
The Aranet4 is a wireless device that allows you to monitor indoor air quality by measuring carbon dioxide (CO2) levels, room temperature, and relative humidity in homes, schools, offices, or other indoor locations.
The Aranet4 provides visual notifications (and optional audible notifications via the Aranet4 app) when the indoor environment's carbon dioxide concentration level becomes unhealthy and can be connected via Bluetooth to an iOS app or Android app on your smartphone.
WHAT IS INCLUDED?
The air quality monitor includes:
An Aranet4 monitor with 2 AA batteries
A case
Quick start instructions
A zippered protective bag
HOW DOES IT WORK?
Once you remove the Aranet4 from the case, the readings may initially appear to be high. Wait a few minutes and the readings should adjust to your environment.
WHAT DO YOU NEED TO USE IT?
2 AA batteries are already in the device
There's no on/off switch so the Aranet4 should be on when you open the case.
WHAT ELSE DO YOU NEED TO KNOW?
This item may be borrowed for three weeks. If there are no holds on this item, it may be renewed.
Borrower must be a FCL patron aged 18 or older with an account in good standing (no unresolved bills).
This item must be returned to the FCL circulation desk  (not in a book drop).
If you have additional questions about borrowing this item, please review our Library of Things Lending Policy.