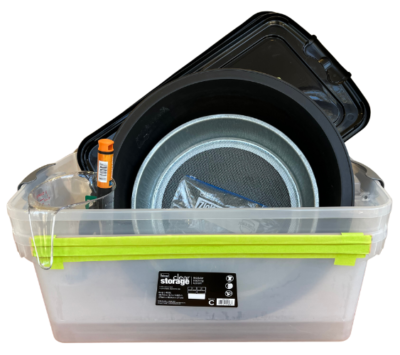 WHAT IS IT?
A vermicomposting harvesting kit is an essential but sporadically used maintenance component of worm farms. Worms in an already established worm farm are fed table scraps and other compostable materials over the course of several months; the worm farmer then utilizes a harvesting kit to separate worm castings from other organic material in the worm bin. Worm castings are an excellent soil amendment.
WHAT IS INCLUDED?
A harvesting kit includes permanent and consumable materials.
Permanent materials:
One 8 mesh sieve
Two 64 quart totes with lids (one with a stiffener on one side to prevent sieve from falling into the tote while sifting)
One black feed bowl
A hand cultivator
A 2 quart measuring cup
A rubber spatula
A paint brush
Instructions
Consumable materials:
Fly paper
17" rubber bands
Dry newspaper (library will include when possible)
HOW DOES IT WORK?
Jock Robie of Mainely Worm Bins has provided both written and audio-visual instructions for harvesting. Specific materials (tote size, for instance) differ slightly from the specifications in these recordings but methodology remains the same.
Worm farmers are encouraged to reach out to Jock for support or questions at mainelywormbins@gmail.com. Please be courteous in all communications with our superstar volunteer. Also be sure to check our Calendar of Events for an opportunity to witness an in-person harvest and the chance to go home with your own free worm farm.
WHAT DO YOU NEED TO USE IT?
Borrowers must supply the following items themselves:
An existing worm farm setup
Peat moss
"Old Wet Diaper" from current borrower's previous harvests, stored in a tote with plastic cover to keep from drying out. Tear up and fluff up and feed to the worm bin with the food to replace the bedding that the worms eat.
WHAT ELSE DO YOU NEED TO KNOW?
This item may be borrowed for three weeks. If there are no holds on this item, it may be renewed.
Borrower must be a FCL patron aged 18 or older with an account in good standing (no unresolved bills).
This item must be returned to the FCL circulation desk  (not in a book drop).
If you have additional questions about borrowing this item, please review our Library of Things Lending Policy.